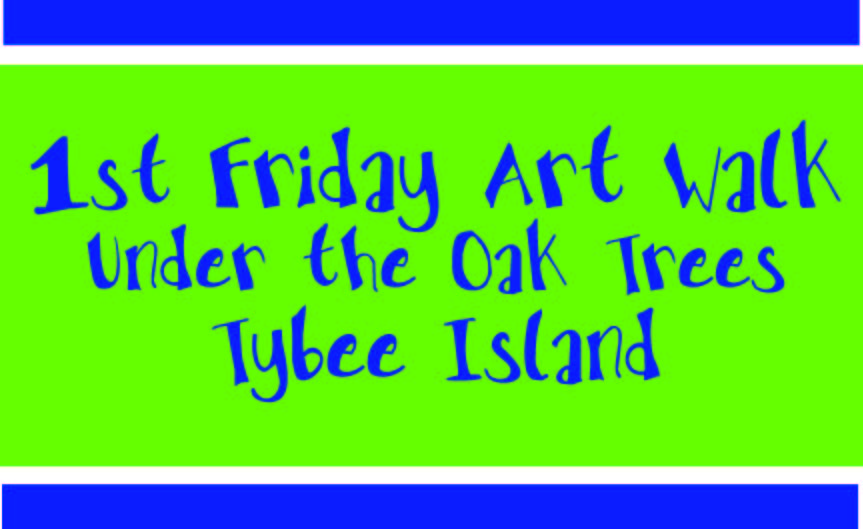 Experience the North End's Expressive Side Under the Oaks
Visual Arts – Performing Arts – Culinary Arts
Evening of fun, friends, inspiration, culinary treats, music &
a raffle at our 1st Friday Art Walk!
Chance to win a Dragonfly Studio Gift Basket valued at $150
Pick up the raffle card at any location – must complete the raffle card to enter.

Festivities begin at 6pm and all raffle tickets must be turned in by 8:00pm at Dragonfly Studios (1204 Hwy 80) to be eligible for the drawing.
Drawing is at Dragonfly Studios at 8:10!
Participating art galleries, boutiques, eco-adventure,
restaurants & chapel include:
Gallery by the Sea
Sea Kayak of Georgia
The Chapel on Tybee
Dragonfly Studio
Gerald's Pig & Shrimp
Space Gallery Tybee Island


Seaside Sisters


Doyle Landscaping
Fish Art
Shell Art
Huc-A-Poos
North Island Surf & Kayak
Longboard Leather Sandals (coming soon)
Misty Marsh
Island Pottery
Latitude 32
Everything under the Sun
All Out Kiteboarding
CK World Gifts
Tybee Art Works
Street parking available
Biking & carpooling encouraged
Join the Sisters for the first "First Friday ART WALK"! Friday, June 3rd on Tybee Island, Savannah's beach! Along with all of the artistic mingling and schmoozing, we'll be showcasing new jewelry by Karen Reardon (her stuff if fabulously bold…never shy!)
On Saturday, stop by during or after the Tybee Tour of Homes and bring your ticket stub. Enter your stub (sounds kinda nasty!!!) in a special drawing for one of Catherine Lovett's lovely paintings or Karen's magnificent jewelry creations. Drawings will take place Saturday at 5 PM!

Shop in Seaside Sisters (voted Tybee's BEST GIFT SHOP) between 1 and 3 PM on Saturday and get

40% OFF ANY ONE ITEM and 20% OFF THE REST OF YOUR PURCHASES!

You heard it girls…we're just feelin kinda generous this weekend! (Original art and special orders excluded). But you MUST recite the PHRASE THAT PAYS below.
So grab your berets and your eye for art…and we'll see you at the First Friday Art Walk and Saturday at our high-falutin, fancy-schmancy art show! Now where is my paint by numbers kit?????
THE PHRASE THAT PAYS….. Sensational SISTERS simply swarm for a Seaside Sale! (Write it down, tattoo it on your forehead, download it on your PDA…but no phrase, no killer sale!!!!) See you Saturday!!!